Appointment Messaging
No-Shows are expensive. Reduce your no-shows with automated appointment reminders. Deliver telephone, text, and email reminders easily and affordably. Nothing to buy. Free setup. 60-Day free trial. Never a contract. Scalable from sole practitioner to nationwide enterprises, Tavoca gives you the best combination of high-quality, fully-customized professional reminders with per-patient pricing as low as 5¢. Learn more...

Interactive Messaging
Phone, Text, and Email messages include interactive response options.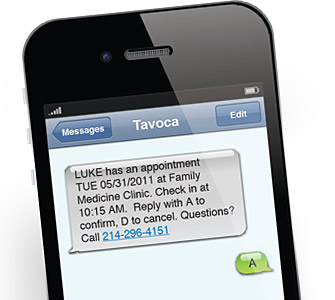 Solutions Spotlight
Appointment Reminders
No-Show Follow-Up
Annual Exam / Recall Reminders
Wellness Messaging
Meaningful Use Messaging
Two-Way Texting
Lab Results
Group Call / Broadcast Messages
Emergency Closings
Follow Us
Keep up-to-date with Tavoca news.
Powerful, Easy Reports
View your messaging results 24/7 with our easy-to-use online reports. Drill down is quick and displays all the details about message delivery and results.